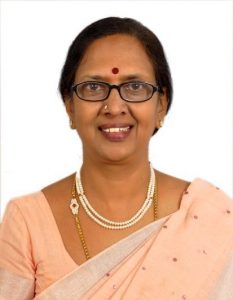 Mrs. M. Bamini is currently the Vice-President – Nutrition support service at Sundaram Medical Foundation, Chennai.
M. Bamini has her expertise in the field of Clinical & Therapeutic Nutrition for the past 35 years. She has specialized in several areas such as critical care, weight loss and Renal nutrition.
A seasoned professional in the field of Clinical Nutrition Mrs. M. Bamini has completed her Masters in Food Service Management, Nutrition & Dietetics and also Registered Dietitian (RD) form 2001.
LLL certified in Nutrition Support in Cancer, Perioperative Period, Nutritional assessment & Techniques and Renal Diseases
CLIP (Clinical Lead Intrainship program) Certified-Competent to be a comprehensive resource Lead for teaching Nutrition Care process and Terminology (NCPT).
She has been actively involved in Research and 19 papers have been presented in various National & International Conferences.
Recipient of A.N. Radha Practicing Dietitian award in 2001 for her paper on "Subjective Global Assessment in Hemodialysis patients" from Indian Dietetic Association.
Recipient of 1st prize in Poster presentation for her paper in "Overview of Nutritional Support Practice in an ICU in India" from PENSA in the year 2003.
Recipient of first prize in Poster presentation for her paper in "Audit of Parenteral Nutrition in a Community Hospital" from Indian Society of Enteral and Parenteral Nutrition in the year 2005.
Recipient of Senior Investigator award in 2021 from 24th world congress on clinical nutrition and 1st world congress on Medical food and nutrition and expo-Haridwar, India
She has published her article in Indian Journal of Nephrology in the year 2001.
She was one of the contributor for 'Clinical Dietetics manual published by IDA.
 Delivers lectures and has also provided several inputs in Media and given nutrition related talk shows in AIR, Doordharshan & several Private Television Channels.
She was past President and Treasurer of Indian Dietetic Association, Chennai Chapter
Past Joint Secretary of Indian Dietetic Association, National Chapter.
Member of Indian society of Enteral and Parentral.Nutrition.
Currently she is the Chairperson National RD Board –  IDA.